How REALTORS® Are Helping Their Communities
Being a real estate professional and REALTOR® isn't just about helping clients buy or sell properties—it's about building communities and helping people feel at home. In every corner of Canada, you'll find a REALTOR® who works year round to help make their community a better place, whether that's through active volunteerism, providing sponsorships, or donating to a cause close to their hearts. You don't have to look far to find stories about REALTORS® helping out both locally and nationally.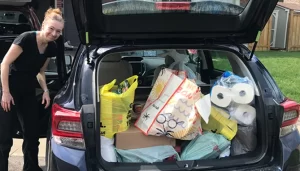 Image via The Florian Realty Team
REALTORS® care for their communities
Take Andrea Florian from Burlington, Ontario, for example. She and her real estate team started the Burlington Cares Food Drive in 2020 to help support food banks in Burlington and the surrounding area. Since then, the organization has supported the Burlington Food Bank, Halton Women's Place, Compassion Society of Halton, and The Salvation Army Burlington Community and Family Services. The Florian Realty Team has also held an annual food and toy drive around the holidays for the last 11 years.
"Every choice we make and every effort to help others, however big or small the gesture, creates a ripple effect in our community," Florian says. "As a REALTOR®, we get to see so much of the ins and outs within our community. Primarily it's our clients who offer us the trust to let us into their lives, to witness the good and the bad; and while we're often helping people make exciting moves, we also help guide people who may be going through a personal struggle."
"The process of what we do as REALTORS® in our community has given us great appreciation for all we have to be grateful for, personally," she continued. "It's hard not to want to give back when you have this insight. You can't unsee people's struggles or pretend it doesn't exist. When you're in a position to give and to be a leader in your community, it's imperative we all step up."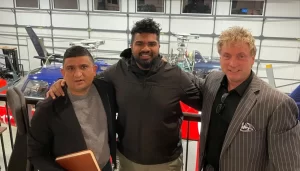 Image via REALTORS Care®/Ron Basra and Phil Moore
Ron Basra of Re/Max Select Realty in Vancouver and Phil Moore of Re/Max Crest Realty in Burnaby, raised more than $46,000 and airlifted 30 tons of food and supplies to communities in British Columbia during the devastating flooding in 2021.
"I felt the pain as I saw the news at home and I thought I have to do something to help," Basra told REALTORS Care® of their efforts in January 2022. "We started at 11 a.m. the next day and by 6 p.m. we had one flight booked for the following day. During the days we organized this effort, I logged almost 5,000 text messages and emails. We were trying to keep everything moving as fast as we could."
"We make a living helping our clients with buying and selling homes, however when we see a need in our community we are drawn to help those in any way we can," Moore says.
These acts of care from the REALTOR® community came at a time when Canadians needed them most. But year-round, REALTORS® across the country continue to embody the REALTORS Care® spirit, from raising money for local charities to collecting more than 100,000 items from a single clothing drive.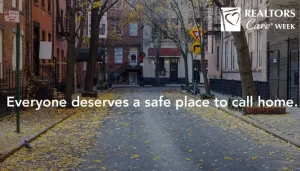 Image via REALTORS® Care
How REALTORS® are helping to raise awareness of the importance of safe and affordable housing in Canada
According to Statistics Canada, about 235,000 people in Canada experience homelessness in a given year. Even more Canadians straddle the poverty line and struggle to cover basic living costs as inflation rises and affordable housing options are in short supply.
In 2019, CREA hosted its first annual national REALTORS Care® Week, bringing the REALTOR® community together to support housing and shelter-related charities in communities across Canada.
As part of REALTORS Care® Week 2020, CREA spoke to Jesse Thistle, a Metis-Cree author and assistant professor at York University, who discussed his own experience with poverty and homelessness on Episode 9 of the CREA REAL TIME podcast.
"I want Canadians to know homelessness is not an individual choice and it's not a product of addiction or mental health or bad choices," he said. "It's really a policy choice of bad governance over time. We're not building the right amount of housing, public housing on par with the way the population has grown for the last 40 years."
"I think donating to organizations where you live is critical," he added. "Volunteer. These places are always short-staffed. There's nothing that can replace human power, human caring."
During REALTORS Care® Week 2021, Dr. Naheed Dosani joined the REAL TIME podcast to discuss how a REALTOR®'s connection to the housing industry is especially pertinent. His call to action on the podcast was powerful.
"REALTORS® in Canada are often community leaders and influencers," he said in the episode.
The fourth annual REALTORS Care® Week is set for November 14-20, 2022 and the REALTOR® association community is hard at work, creating plans to positively impact housing and shelter-related issues in communities across Canada.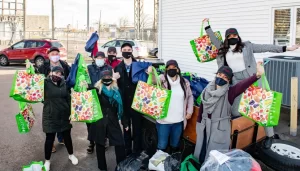 Image via REALTORS® Care
Do you know a REALTOR® making a difference in your community?
In 2016, CREA launched its annual Canadian REALTORS Care® Award to celebrate REALTORS® who serve their communities through volunteering, philanthropy, fundraising, and advocacy. Since its inception, the program has recognized eight REALTORS® and almost 200 nominees who have committed themselves to helping their neighbours.
REALTOR.ca is proud to once again be a presenting sponsor of this prestigious award.
If you know a REALTOR® who is making a difference in their community and deserves recognition on a national level, nominate them for the Canadian REALTORS Care® Award 2023 Proudly Presented by REALTOR.ca.
How REALTORS® Are Helping Their Communities